When:
November 1, 2017 @ 1:00 pm – 4:30 pm
2017-11-01T13:00:00-04:00
2017-11-01T16:30:00-04:00
Where:
Stedman Lecture Hall 120E, York University
4700 Keele St
Toronto, ON M3J 1P3
Canada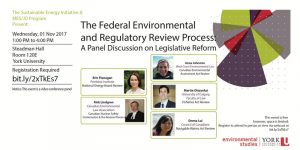 Federal Environmental and Regulatory Review Webinar
The purpose of this panel is to assess progress on the federal government's review of key federal legislation, including CEAA, the National Energy Board Act, Fisheries Act and Navigation Protection Act, and to discuss likely next steps in the process. All are welcome, but registration is required via Eventbrite.
Featuring:
Anna Johnston, West Coast Environmental Law
Erin Flanagan, The Pembina Institute
Emma Lui, The Council of Canadians
Rick Lindgren, Canadian Environmental Law Association
Martin Olszynski, University of Calgary
Moderator: Mark Winfield, York University
---
Wednesday, November 1st at 1PM
Stedman Lecture Hall 120E, York University.
Online via Zoom: https://yorku.zoom.us/j/235379802
---
Anna Johnston is staff counsel with the West Coast Environmental Law Association, where she focuses on building the next generation of environmental assessment law. Called to the bar in 2011, Anna has represented community and Indigenous groups on environmental assessments of major energy projects in British Columbia and Alberta and has provided environmental legal education and support to communities across Canada. She currently co-chairs the national Environmental Planning and Assessment Caucus of the Canadian Environmental Network and sits on a Multi-Interest Advisory Committee appointed by the Minister of Environment and Climate Change to assist in the federal review of Canada's environmental assessment processes.
---
Erin Flanagan is the director of the Pembina Institute's federal policy program. In this role she spearheads national policy campaigns on climate and energy issues – including on carbon pricing, electricity sector regulation and environmental law reform – and supports the Institute's regional priorities in Ottawa. Erin researches and promotes public policy solutions that reduce the environmental impact of fossil fuel development and that support Canada's transition to clean energy. As a technical analyst at the Institute, she contributed to public- and private-sector projects on a range of issues in the oilsands, including greenhouse gas and water management, tailings treatment, and land reclamation.
---
Emma Lui is the lead water campaigner for the Council of Canadians.
---
Richard Lindgren is a lawyer with the Canadian Environmental Law Association. Since joining CELA in 1986, he has represented individuals and public interest groups before tribunals and in the courts, and has been involved in numerous undertakings subject to federal and/or provincial environmental assessment requirements. He served as counsel for Walkerton residents at the Walkerton Inquiry, and has been a member of the Environment Minister's Advisory Panel on Environmental Assessment; the Environment Minister's Task Force on the Environmental Bill of Rights; and the Attorney General's Advisory Committee on Class Action Reform. He is an editor of the Canadian Environmental Law Reports, and has taught environmental law at Queen's University Faculty of Law and Trent University.
---
Martin Olszynski is an assistant professor in the Faculty of Law at the University of Calgary. Formerly counsel with the federal Department of Justice, practicing law in the legal services unit at Fisheries and Oceans Canada. He also spent time on secondment to the Legislative and Regulatory Affairs Division at Environment Canada. Martin holds a B. Sc. (Biology) and an LL.B., both from the University of Saskatchewan, and an LL.M. (specialization in environmental law) from the University of California at Berkeley. Following law school, Martin clerked for the Hon. Justice Denis Pelletier of the Federal Court of Appeal (2006). Prior to joining the University of Calgary, he was a part-time professor with the University of Ottawa Faculty of Law, where he taught environmental law.