Osgoode Environmental Justice and Sustainability Clinic co-directors Professor Stepan Wood and Adjunct Professor David Estrin presented two of the five lectures making up the 2015 International Law Summer Institute at the Centre for International Governance Innovation's International Law Research Program in Waterloo, Ontario. The videos were posted on Youtube last week.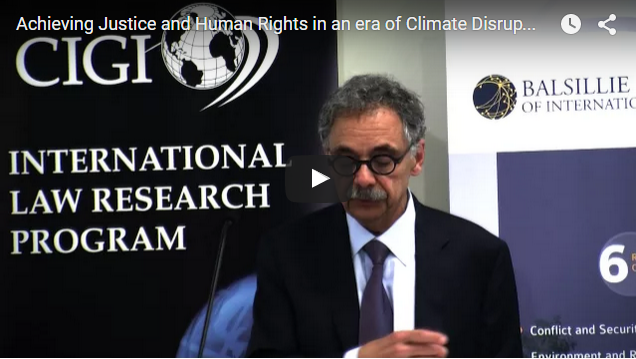 David Estrin, a Senior Research Fellow in CIGI's International Law Research Program and a former McMurtry Fellow at Osgoode Hall Law School, lectured on the challenge of achieving justice and human rights in an era of climate disruption. David was the co-chair of an International Bar Association task force that produced a landmark 2014 report on this subject. For a taste of David's lecture, see his short video teaser.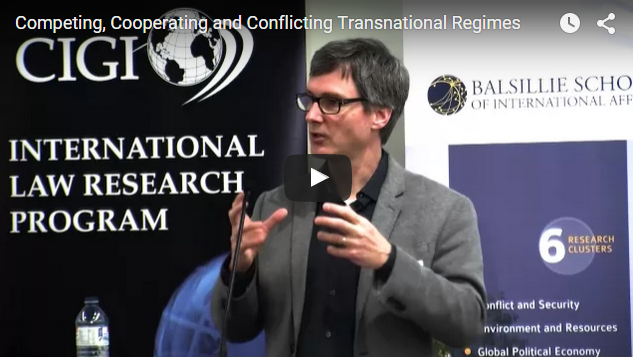 Stepan Wood, Osgoode environmental law professor and co-founder of Canada's national Willms & Shier Environmental Law Moot, lectured on competing, cooperating and conflicting transnational social and environmental governance regimes. Stepan leads an international, interdisciplinary research network that studies the dynamics and impacts of these transnational governance interactions. Like David, he recorded a short teaser for his lecture.
From climate justice to transnational environmental governance, these two lectures give a sense of the diversity, importance and global reach of the issues that the EJS Clinic's founding co-directors address in their work. 
According the to CIGI website, the goal of the International Law Summer Institute (ILSI) is to provide graduate students with "an intensive, one-week program on the foundational aspects of public international law, as well as to provide students with exposure to leading international law researchers, as well as promote networking opportunities among the students themselves."
It was a testament to the international stature of the EJS Clinic's founders and co-directors that they were both selected to participate in this important event.
All of the Summer Institute teasers and lectures are available on the CIGI website in a Youtube playlist.