By: Ryan Chawner
A flurry of important environmental law and policy news closed out 2019 and lay the groundwork for 2020. Climate justice activists scored a big win with the Dutch Supreme Court decision in The State of Netherlands v Stichting Urgenda (Urgenda). This decision affirmed that there is a real threat from climate change, such that Dutch residents face a loss of life within Article 2 of the European Convention on Human Rights or a disruption of family or private life within Article 8. In order to reach the 2 degrees Celsius warming target, the Court ordered that Dutch emissions must be cut by 25% by the end of 2020 (Para 6.4, unofficial English translation). The Court reasoned that because there was an impending violation of human rights, the state was obligated to act. As the first successful climate justice suit, Urgenda will be an important precedent for future actions.
Closer to home, 2020 got off to a rocky start, as the United States Court of Appeal for the Ninth Circuit denied standing to the plaintiffs, a collection of youth and non-governmental organizations, in Juliana v United States. Despite accepting the fact of dangerous climate change, and the U.S. government's contributions, a majority of the Court concluded that the judiciary has no role to play, as this is a matter for "the political branches … or the ballot box" (pg 32).
The import of both cases will be felt throughout the Canadian court system, as a plethora of cases on climate change and government regulation will be argued in 2020.
Canadian Climate Change Litigation in 2020
After reserving its ruling in December 2019, the Alberta Court of Appeal released its decision in the Greenhouse Gas Pollution Pricing Act Reference. Unlike similar references in Ontario and Saskatchewan, where the Courts upheld the constitutionality of the legislation, the Alberta Court found the act to be unconstitutional. The Supreme Court of Canada will hear the appeals from Saskatchewan and Ontario on March 24th and 25th respectively.
Four Canadian climate justice lawsuits will be heard in 2020. Environnement Jeunesse v Attorney General of Canada (ENJEU) will be heard by the Quebec Court of Appeal following the refusal to certify a class action in 2019 (decision in French). On behalf of Quebec youth (people under 35), ENJEU alleges violations of both the Canadian Charter of Rights and Freedoms (Charter) and the Quebec Charter of Human Rights and Freedoms from a failure to develop and institute adequate greenhouse gas reduction targets to avoid dangerous climate change.
In British Columbia, La Rose et al v Her Majesty the Queen was filed in October on behalf of Canadian youth from multiple provinces and territories. This suit alleges a violation of sections 7, Life, Liberty and Security of the Person, and 15, Equality, of the Charter through inadequate federal regulation of greenhouse gases, such as emission standards for and certifications of vehicles. It also alleges Canada has failed to protect its Public Trust Resources, such as navigable waters, shores and the territorial sea, the permafrost, and the air.
Pictured: La Rose plaintiffs, Source: https://www.ourchildrenstrust.org/canada
Mathur et al v Her Majesty in Right of Ontario was filed in November on behalf of youth from across Ontario. It likewise alleges violations of Sections 7 and 15 through the Ontario government's failure to set targets according to the Paris agreement and repeal of the Climate Change Mitigation and Low-carbon Economy Act, 2016. Mathur seeks an order that the government set a reduction target consistent with Ontario's share of the minimum level of greenhouse gas reductions necessary to limit global warming to below 2C.
Lho'imggin et al v Her Majesty the Queen was filed in February 2020. Two hereditary Head Chiefs of Wet'suwet'en Houses, on their own behalf and that of their yikhs (Houses), allege that in failing to enact legislation which meets its international climate change obligations the Canadian government has failed in its common law and constitutional duties to keep global warming below 2C. In so doing, the Chiefs allege Canada has exacerbated the historical colonial trauma suffered by the plaintiffs, violating their Sections 7 and 15 rights. Lho'imggin seeks an order that Canada's environmental assessment statutes be amended to allow for the Governor in Council to cancel greenhouse gas emitting projects not compatible with international obligations.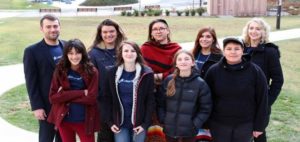 Pictured: Mathur et al. plaintiffs and two Ecojustice lawyers, Source: https://www.ecojustice.ca/case/genclimateaction-mathur-et-al-v-her-majesty-in-right-of-ontario/
Impact of Urgenda and Juliana
Each of these is similar to Urgenda as they all claim that climate change violates human rights, but each raises its own novel issue. The decisions in both Urgenda and Juliana each offer a glimpse into the direction Canadian courts could take.
As with the Netherlands and unlike the United States, Canada is a party to the Paris Agreement, and the commitments therein can be used as demonstrable targets for state action over greenhouse gas emissions. However, unlike the European Convention on Human Rights, where Articles 2 and 8 impose positive obligations on the state (Urgenda paras 2.41-2.49), Section 7 of the Charter does not. The Ontario Court of Appeal, in R v Banks and Tanudjaja v Canada (Attorney General), and the Supreme Court of Canada, in Gosselin v Quebec (Attorney General), and Chaoulli v Quebec (Attorney General), have rejected imposing positive obligations under Section 7 and expanding the gamut of Section 7 to include socio-economic rights.
These cases show a tendency, like the court in Juliana, to defer to political branches of government. There are exceptions to this tendency in Canadian jurisprudence, with Carter v Canada (Attorney General) being a notable example, and climate litigators will have four chances in 2020 to include protection from dangerous climate change under the Charter.
Positive Developments on Climate Change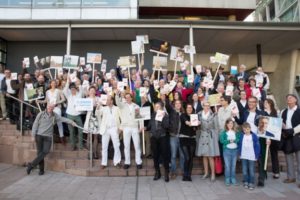 Pictured: Urgenda and its co-plaintiffs celebrate after landmark decision in Dutch Supreme Court, Source: https://www.urgenda.nl/en/themas/climate-case/
In December 2019, the Federal government announced charges against Volkswagen stemming from the emissions scandal. These charges include criminal charges for the importation and sale of standard-violating vehicles and for providing misleading information to the public and contraventions of the Canadian Environmental Protection Act, 1999. Such charges are long overdue, with the lack of action being highlighted by the United Nations Special Rapporteur on human rights and hazardous substances and wastes on his June 2019 visit to Canada. In January 2020, after pleading guilty to the charges, Volkswagen was fined $196.5 million. This is the largest fine for an environmental offence in Canadian history.
Citing a lack of investor confidence due to an unsatisfactory climate change framework, Teck Resources withdrew its application for the Frontier oilsands project in Northern Alberta. This decision is a major win for the Canadian climate, as the project would have emitted millions of tonnes of greenhouse gases over its life span. Teck's justification for not proceeding with the application shows the necessity of stringent environmental regulation for a healthy economy.
Conclusion
With recent projections showing a business-as-usual approach would result in warming of 3 degrees Celsius by 2100, urgent action is needed in order to mitigate the catastrophic impacts of climate change.  The Urgenda decision marks the next step in the ongoing fight against dangerous climate change and the Teck withdrawal demonstrates that industry is taking note. As climate consciousness grows in Canadian society, 2020 marks a pivotal year for  environmental law in Canada, one which could see the expansion of the legal toolbox for climate justice activists.
La Rose plaintiffs photo: https://www.ourchildrenstrust.org/canada
Mathur plaintiffs with two Ecojustice lawyers: https://www.ecojustice.ca/case/genclimateaction-mathur-et-al-v-her-majesty-in-right-of-ontario/
Celebrating Urgenda victory: https://www.urgenda.nl/en/themas/climate-case/ picture 23