By: Sarah Murphy
How Do Municipalities Fit into the Climate Change Conversation?
Many governments are turning their minds to how they can respond to climate change and growing public concern. Federal and provincial governments in Canada are battling over jurisdiction to implement climate change policies on issues such as carbon taxing and pipeline expansion. However, it is often municipalities that bear  the material and financial burdens of climate change (see pages 33-34). Materially, municipalities will be the first to be impacted by extreme weather events such as winter storms and floods. Financially, municipalities will bear the immediate burden of cleaning-up as well as service and business disruption. As former Environmental Commissioner of Ontario Dianne Saxe explains, municipalities are in a unique position because they have "an important role to play…[and] have more at stake than higher levels of government."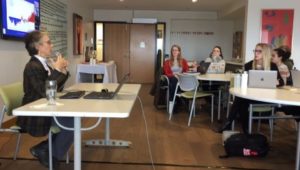 Dianne Saxe Giving her Talk to University Students Participating in the Research-a-thon (Source : Twitter @OzEJS)
As a result, municipal governments across Canada are increasingly trying to understand their important role in the fight against climate change. Notably, by February 2020, more than 480 Canadian municipalities have declared climate emergencies, called on other levels of government to act, and some have even explored how to hold carbon producers accountable. However, while municipalities have significant responsibilities in areas like land use planning and public transportation, they also have limited power and resources. Municipal governments are created under provincial statute, which allows them to govern over matters of local jurisdiction. In Ontario, municipalities can make by-laws under the Municipal Act (s 11(2)) relating to matters of health, safety, and environmental well-being, including respecting climate change. Courts have interpreted this generously to include things like limiting the use of pesticides within the municipality. However, municipalities are restricted insofar as they cannot create by-laws that conflict with provincial or federal regulations such as the Planning Act or the Environmental Protection Act. In the context of this complex regulatory environment and growing public concern, municipalities are trying to understand their role in the climate change conversation. Luckily, there are legal professionals and law students ready to lend a hand and support municipalities to make these climate emergency declarations more meaningful on the ground.
Clarifying the Role of Municipalities through Legal Research
In the fall of 2019, law students and faculty at Windsor Law's Cities and Climate Action Forum teamed-up with Osgoode Hall's Environmental Justice and Sustainability Clinic to organize a national research project to help municipalities understand their role and powers in relation to climate change. The project was inspired by municipal actions such as banning plastic shopping bags and exploring climate litigation. To help support and bolster these actions, students and faculty explored the legal issues and challenges facing municipalities. The goal was to build on existing examples of municipal leadership and provide guidance for municipalities working on climate change.
Early on, the organizers decided that a research-a-thon (an all-day, national researching marathon) would be an ideal way to reach the widest audience possible and amass a significant amount of information in a short period of time. Research-a-thons have seen much success amongst Canadian law schools from challenging travel bans to mining law reform. With a dozen law schools signed-up, the organizing team worked with lawyers and municipal officials to draft research questions that contribute to broad understandings of the role of municipalities in the climate crisis and to the development of specific actions that can be taken by municipalities. Each participating school was asked to consider three overarching themes during the research process: Indigenous jurisdiction and perspectives including legal frameworks and government partnerships; environmental justice matters such as who will benefit from the suggested actions; and finally, opportunities for collaboration amongst municipalities and other entities.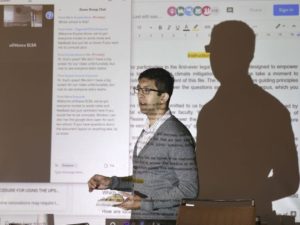 Presentation at a University participating in the Research-a-thon (Source: Windsor Star)
The research questions were divided into eleven categories: energy; transportation; local government jurisdiction; procurement and investment; building and housing; financial tools; infrastructure; waste; planning; climate change litigation; and natural assets and water. Within each category, specific research questions were developed to provide guidance on where information-gathering should be focused. Various speakers were planned to present on their specialized fields of research throughout the day and were available to the participants for questions. For example, Dianne Saxe presented her talk "Climate Changes Everything" over lunch with law students and faculty from Halifax to Victoria tuning in.
Research-A-Thon Findings & Next Steps  
The research-a-thon produced a great deal of information under each of the categories ranging from municipality-specific suggestions to general insights about navigating local climate change impacts. For example, researchers uncovered several areas for climate-change related by-law expansion ranging from plastic bans to infrastructure requirements for new buildings and renovations. The organizers are currently in the process of amassing and organizing the research findings so that all the information can ultimately be compiled and published in a format that will be useful and accessible to municipalities across the country.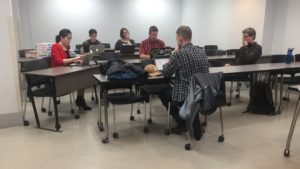 Students Researching at the Research-a-thon (Source : CTV News Saskatoon)
With so many questions lingering about how we can address the impacts of climate change, small steps to support those who are going to bear the burden of responding on the ground will help ensure informed and well-thought-out actions are taken at the local level. Providing research assistance is one powerful way for law students to get involved in the fight against climate change, because at the end of the day, "[e]veryone has to do their part".
Students Researching at the Research-a-thon (Source : Twitter @UWindsor)